Two-Day Clinics with Pete Ramey
"In 2014 and 2015, Ivy and I loaded up the kids in a camper, and toured the U.S., teaching over a hundred one-day workshops focusing on the rehabilitation of hoof problems. It was a great ride, and the workshops were very well-received.
But real-live rehab is what I love. I had to get back to the real world, seeing cases through to the end at home. The problem is, we weren't able to get to everyone who wanted us to come on our driving tour. So... time to burn the candle at both ends.
Beginning in mid-2016, we're going to offer a few two-day Hoof Rehab Clinics. We are increasing the price, clinic duration, and the number of participants to pay for air travel, so I can simultaneously maintain my farrier/rehab business at home and travel to teach weekend clinics around the U.S. and abroad.
For those of you who were familiar with both the 100-person clinics we used to teach, and the more recent 15-person workshops from our U.S. driving tour, you'll find the new clinics to be a hybrid between the two. I'm thinking that a 40-participant max is perfect to keep the close-up "gathered around the horse" feel of the small workshops, without having to watch the horse work on a TV monitor as we did in the huge clinics in the past.
I think itíll be just right.Ē
Pete
Two-Day Hoof Rehab Clinic - The Basics:
The cost of the clinic is $300 (USD) per person, with a maximum of 40 paying participants per clinic. Eight of the participants will be selected to bring a horse to be worked on during the clinic. Pete will evaluate, discuss and trim each horse. As needed, boot fitting, padded insoles, heat-fitting, shoe application/gluing, hoof casting, etc. will be discussed and demonstrated. For more details, read the Participant Information page.

The clinic host will receive 10% of the gross ticket sales to help cover facility expenses, plus the host can attend the clinic, invite one farrier/trimmer, and one equine veterinarian for free. Hopefully the veterinarian will be available throughout the day to take radiographs, provide sedation if needed, and consult with Pete as needed. If you are interested in hosting a Clinic, please read the Host Information and Requirements page (and all of the other pages provided here).

It is highly recommended that all workshop participants watch some of the Hoof Rehab DVD sets (particularly

Under the Horse

and

In the Trenches

) and read the book

Care and Rehabilitation of the Equine Foot

before attending. If participants already have this background information it will dramatically raise the level of the material that can be covered during the day.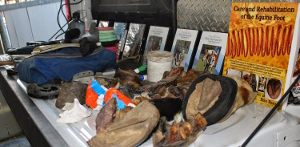 Clinic Host Information & Requirements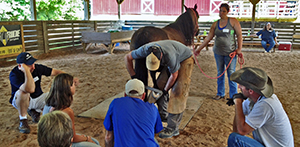 Participant Information & Registration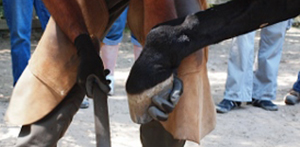 Clinic Horse Requirements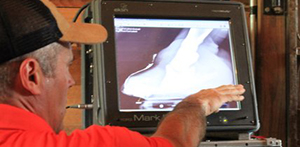 Workshop Pictures