What's new on this site:
Starting with the April '13 issue, I will be writing a monthly Q&A piece for Horseback Magazine.
Dressage Today article
Important research project needs your help now!
Check out these hoof boot stats for the Tevis Cup (the world's best known and most difficult equestrian endurance ride).
Congratulations everyone!
Fall Sale on all our educational material.
30-50% off
American Farriers Journal Book Review
We posted some reviews of the new book here and the Introduction (including Bare vs. Shod discussion) here.
New book
Care and Rehabilitation of the Equine Foot available for immediate shipment.
Well, the new book is finally done. Color hardback, 8 authors, designed for veterinarians, farriers and trimmers- detailed focus on laminitis and caudal foot pain. Read outline at:
Care and Rehabilitation of the Equine Foot
Pre-sale open for November shipment.
Sure to be an excellent equine nutrition clinic: http://www.nolaminitis.org/first-annual-no-laminitis-conference August 5-7
Important Notice: Someone set up a Facebook profile "Pete Ramey" and has been giving hoof advice in my name. This is not me!!! I "chat" in precisely one place--the AHA public and private forums. If you see me posting anywhere else, it is an imposter! Pete
New DVD set
New caudal foot study/poster from Dr. Taylor
Updated statistics from Dr. Taylor with 26 horses in the laminitis study
New DVD set
New article10-01-10
Hoof Care in the 21st Century?
New 2 disc DVD set That's My Horse #3
New 3 disc DVD set That's My Horse #2
3D Reconstruction poster AU
Adam Cooner LC/DC study at AU PowerPoint presentation. Special thanks to Easycare for funding this project!!! This is a very important step towards studying and evaluating LC and DC development in live horses. Cool and informative 3d MRI and CT models. (Use left and right arrows to speed up or slow down transitions and animations) (slide #25 is a great animation that few computers can play for some odd reason- sorry) Dial-upers and dinosaur jockeys beware: This is a BIG file.
New 3 disc DVD set That's My Horse #1
Hoof Rehab Protocol in the 'Articles' section
Ivy and Pete Update
Great new thrush tool!!!
We just finished a new DVD set Tools of the Trade. It features detailed demonstration of tool selection and care, shoe pulling, knife sharpening, nipper sharpening, glue-on boots, hoof casting, impression material, epoxy work and padding.
The "Under the Horse" DVD set has been approved by the American Association of Veterinary State Boards (AAVSB RACE) for 20 hours CE Credit for vets and vet techs (testing and critique of the course also required to complete CE requirements)
You've gotta see this: Peripheral loading ouch!
http://www.youtube.com/watch?v=ej1MNNz2mgI
"I am currently taking a series of online equine nutrition courses from Eleanor Kellon, VMD www.drkellon.com . I can't begin to tell you how impressed I am and how much I'm getting out of it! Anyone who is responsible for taking care of horses should join me over there!" Pete
A very special "Thank you" to the American Farriers Journal for their wonderful review of our DVD series in the May/June '08 issue
See what Hoof Professionals and Horse Owners are saying about our DVD series
Under the Horse
http://www.hoofrehab.com/underthehorse.htm

Important new wild horse research needs your help. Note from Chris Pollitt and Brian Hampson's site www.wildhorseresearch.com
"Must read" laminitis paper!
http://www.rirdc.gov.au/reports/HOR/07-158.pdf
Updated radiographs from the horse in Disc 10 "Road to Recovery"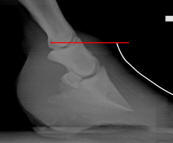 Front right March 07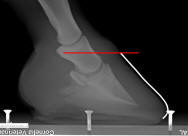 Front Right October 07
She's very happy and comfortable
The DVDs are here and being shipped out now!
New articles posted 8-17-07
"Hoof Care for Angular Deformities"
"Wall Cracks"
Read this! http://www.thehorse.com/ViewArticle.aspx?ID=10256
Laminitis induced by high insulin levels! New paper from University of Queensland will finally make the entire world place primary focus on diet and exercise for preventing and treating laminitis. See Laminitis Update in the "Articles" section on this site.
Check out this video from Joe Camp; the creator of Benji and The Soul of the Horse. This is Paddock Paradise at its best!
Very nice and concise article every horse owner should read: thehorse.com/ViewArticle.aspx?ID=9587
The two day clinics meet the requirements for 20.00 hours of continuing education credit for veterinarians and 20.00 hours of continuing education credit for veterinary technicians in jurisdictions which recognize AAVSB's RACE approval program, including California.
No more clinics.... We are going to focus on research and writing a textbook. We'll probably go back on the road eventually, but after our last scheduled clinic (November '07), we
are going to stay in Georgia for a while. If you want to host a hoof clinic, contact the members at www.americanhoofassociation.org
Each of the professionals listed there are teaching private mentorships and are offering clinics.
Study www.safergrass.org and watch these new videos. Great help for horses everywhere.